Written by Katie Bahr
This is one of two posts based on sessions from the 2023 Fall Supply Chain Forum, which took place from November 7–9 in Knoxville, Tennessee. Attendees may download the full presentation from the session under Resources in the GSCI app. Read the first article on leadership and talent development with Tennessee softball coach Karen Weekly.
At the spring forum, Alison Keefe, director of global emerging talent for Smith+Nephew, and Cole Burns presented on recruiting, training, and helping Gen Z talent succeed in the workplace.
With companies hiring dozens of UT interns every year, Tyler Orr, associate director of supply chain student development and career management, organized a panel of some of our top supply chain students to share their experiences at this fall forum.
Industry Standards for Internships
Before getting to the panel, Orr shared internship best practices compiled using national data and surveys conducted by the GSCI team.
| | |
| --- | --- |
| Pay interns | Hold executive speaking events |
| Recruit for interns the same way you would full-time employees | Stay connected after they leave |
| Align internship programs with overall goals for a diverse, inclusive workforce | Provide work and general skill development |
| Provide relocation and housing assistance | Involve the recruiting team in the internship |
| Provide real work assignments | Conduct focus groups/surveys of interns |
| Hold orientations | Conduct exit interviews |
| Invite career center staff and faculty to visit interns on-site | Showcase intern work at the end of their internship |
| Hold new-hire panels | Collect, track, and analyze program statistics |
Data from the National Association of Colleges and Employers
Note: Internships are required for all supply chain undergraduates in the Haslam College of Business.
In recent years, UT students have reported prizing internships that offered:
Responsibility and meaningful assignments. They want real-world projects that make an impact on their hiring company.
Opportunities to build skills and knowledge. This applies both in and out of their day-to-day roles, allowing them to make connections throughout the company.
Connection, value, and trust for interns. They do not want to be micromanaged but also have the opportunity to build personal relationships.
Varied experiences with in-depth knowledge.
"Rotational programs can be good but are better for long-term programs like co-ops," Orr said. "The highest ranked internships are always the ones in which interns made professional connections they felt would last beyond their internship."
Poorly rated internships were generally the opposite. Students were given little responsibility, or assigned work irrelevant to the company or supply chain management, or the internship needed more communication and structure.
The top reasons interns accepted offers to return to their companies included pay, location, and type of work. Culture and relationships also played critical roles.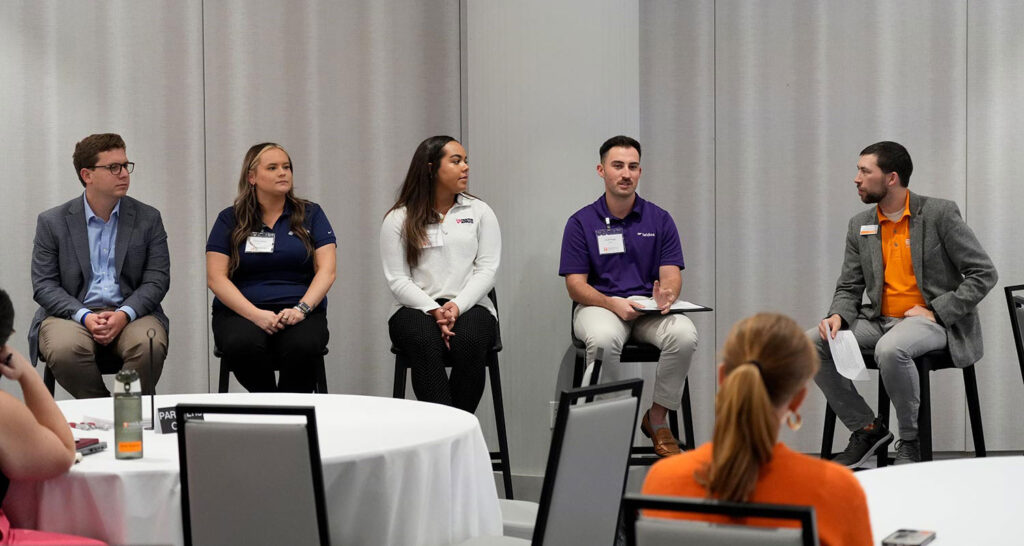 Panel Discussion
The panel consisted of three supply chain management undergraduates who had recently accepted return positions from their internship companies and one MBA student.
Matt Bates (MBA). Interned at Deloitte working on a proof of concept to analyze big data in its supply chain.
Olivia Daniels. Interned at WestRock in logistics and procurement, updating the company's transportation guide and sourcing lanes for dedicated fleets to see if they could use DTR.
Gabby McEwen. Interned at Tractor Supply Co., working with LCL invoicing.
Jacob Wiggs. Interned at Leidos, helping to get KPI contractors integrated into a Power BI project.
Orr began the discussion by asking Bates and McEwen about their experience regarding the time between receiving their offers and starting work.
"I received congratulations from the members of my team immediately," McEwen said. "My manager reached out as soon as he found out that he was going to be my manager. I had a text from him when I woke up on my first day."
Tractor Supply also put all the interns in a group chat and helped them get acquainted with Nashville, where they were based for the summer.
Bates received similar congratulations and was connected with future interns at Deloitte through an upscale, in-person event. Connecting with other interns helped with planning.
Wiggs and Daniels shared stand-out qualities of their internships at WestRock and Leidos, respectively. Daniels' internship included tours of a frontline operations mill and a box plant, which provided additional context to her work. She also had two managers: one who focused on developing her industry knowledge and networking and another who managed her day-to-day work.
"There wasn't a single person who wasn't willing to take time out of their day to answer my questions," Wiggs said of his Leidos internship, which was split between remote and in-office work. "There was also at least one event a week either at the corporate or procurement level, which made me feel connected to the larger company."
Daniels returned to UT for the fall of her senior year having already accepted an offer from WestRock.
"My last day was at the end of July, and my manager sat me down to review my progress and projects. She made a verbal offer right there," Daniels said. "I'd worked in logistics and procurement, but I wasn't sure what my tasks would be like in the position offered. I met with lots of recent grads, and younger people who were in jobs that would typically be held by people with more experience. To me, it showed the company valued hard work. After those meetings, I knew."
McEwen, by contrast, took time to consider her offer from Tractor Supply. Her manager left it up to her to decide where she wanted to take a position in the company.
"I held off on accepting right away so I could get my priorities in line," Gabby said. "I wanted the room to grow and develop and a team of people I could work with and enjoy. I felt incredibly valued by them asking me, 'What do you want to do?'"
"Tractor Supply had built a secure enough relationship with Gabby to not demand she sign right away," Orr said. "They told her that she needed to make the best decision for her, and she would retain the relationships there even if she decided to go somewhere else."
Orr asked Bates what Deloitte did well with him coming in with four years of experience at Dollar General across multiple supply chain management roles before his MBA.
"It felt like a test of my knowledge those first few weeks, looking at dirty spreadsheets and interpreting them," Bates said. "I think I did well because the work kept on coming."
"After a few weeks, we started refining my skills toward creating client-ready documents," he said. "I was given autonomy to work, but also people to reach out to. Then, we'd check in at the end of the week after they'd given me some time with it. It was great to have the level of responsibility."
Audience Q&A
The first questions from the audience revolved around what trust looks like to interns, given its emphasized importance throughout the data and discussion. The panel uniformly agreed that being given responsibility and ownership of their tasks was the greatest sign of trust from their company. Most also cited being trusted to conduct work important to the company.
"It was clear my project was significant," Daniels said. "Multiple employees in logistics asked about it and were looking forward to seeing results."
"I did a lot of communicating with vendors," McEwen added. "I know that's very important, and being trusted with them was awesome."
"Being given work that other employees depended on to meet their deadlines," Wiggs said.
Orr pointed out that though many companies try to create a project that starts and finishes with the internship, that's often not possible with higher-value company projects. He noted that for the panel, three out of four projects were not completed during the internship.
The audience then asked what the students had been looking for in an internship during their search. Relevance to supply chain management and their chosen industries was important. But many also said that their interactions with recruiters made a difference.
"There were certain companies I was looking at, and WestRock wasn't one of them," Daniels said. "But I met them at the intern fair and really liked them."
"I knew I wanted to try consulting as an internship, and I liked the people at Deloitte the most," Bates echoed.
The audience members then asked about hybrid work schedules. Wiggs' position was remote, with the opportunity to visit the office location in Oak Ridge. Bates began his internship in-office and then shifted to remote work.
"It was great to have both," Wiggs said. "They had a structure in place where we came in Tuesday through Thursday. It was nice to start the week slowly, but also good to be able to come in when I had thought I understood what I had to do but realized I needed to source help from other people."
Bates began his internship working in Nashville, where neither his supervisor nor the members of his team resided and traveled every week.
"It didn't make sense for me to be there, so I got them to consider letting me work in Knoxville and just travel every few weeks," he said.
Want more information for recruiting UT supply chain students? Visit our Recruit our Students page. Partners are also invited to register early to reserve a place for the SCM Career Expo in Knoxville on February 12, 2024.