Who We Are
Driven by our Volunteer spirit and our passion for understanding and impacting how things work, the Global Supply Chain Institute (GSCI) partners with companies, industry organizations, academics and students to help identify their supply chain management (SCM) strategy and develop their talent. In this spirit of engagement and impact, the departments of Supply Chain Management and Graduate and Executive Education in the Haslam College of Business created GSCI to extend relationships to industry and drive transformation in the profession.
Mission and Vision
The Global Supply Chain Institute shapes and influences the practice of supply chain management by serving as the preeminent global hub for leading practitioners, academics and students to learn, network and connect. Its goal is to provide partners and students alike a competitive advantage by enhancing their knowledge and understanding of how the supply chain is evolving, at home and abroad.
History
The University of Tennessee's supply chain expertise began in the 1930s with a transportation program that eventually grew to become one of the nation's most respected logistics degrees. In the 1990s and 2000s, under the leadership of Tom Mentzer, UT published leading research on marketing and logistics integration strategy.
As companies' logistics efforts transformed into supply chain management, UT's teaching transformed with it. Around the same time, UT founded its Supply Chain Forum, bringing industry leaders to campus yearly to discuss the latest developments in the field. The Global Supply Chain Institute was formed in 2011 as a means of broadening and deepening UT's contact with businesses by placing supply chain industry relationships and degree and talent development programs into a single organization, including the Supply Chain Forum, an advisory board, white papers, collaborative research, executive education and recruiting.
Today, commerce interruptions from COVID-19 have brought supply chain to the forefront of American consciousness when it comes to sustaining large industries, making the efforts and network of GSCI more relevant than ever. The Haslam College of Business' supply chain programs marry industry with scholarship and are regularly ranked in the country's top three. Hundreds of professionals from over 70 leading companies take part in our twice-yearly forum as partners. Many more download our white papers, read our contributions to trade journals and partake in our talent development and executive courses. UT's supply chain graduates are the top executives in their field at leading organizations in the industry like Amazon, Converse, Eastman Chemical, SC Johnson and Walmart. These graduates help direct our research, inform our teaching and share their insights with our partners.
Awards and Accreditation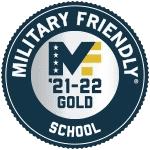 Gold Award for Leading Practices, Outcomes, and Effective Programs (Military Friendly, 2021-2022)
At UT we are committed to creating an exceptional learning environment for our community of Volunteers that meets the unique needs of each student. In recognition of this effort, UT has been acclaimed as a 2021-2022 Military Friendly Gold School. The gold award ranking is the highest designation of Military Friendly, and reflects our institutional dedication to upholding academic policies, a campus culture and financial aid and assistance options in support of the military community.
Since 1897, the University of Tennessee, Knoxville, has been continuously accredited by the Southern Association of Colleges and Schools Commission on Colleges (SACSCOC) to award baccalaureate, master's, education specialist and doctoral degrees.