Written by Katie Bahr
This is one of two posts based on sessions from the 2023 Spring Supply Chain Forum, which took place from April 25–27 in Knoxville, Tennessee. Attendees may download the full presentation from the session under Resources in the GSCI app.
"By 2025 Gen Z labor force participation will outpace Baby Boomers for the first time," said Alison Keefe, director of global emerging talent for Smith+Nephew, during a breakout session at the most recent Supply Chain Forum, organized by the Department of Supply Chain Management in the Haslam College of Business and Global Supply Chain Institute.
Keefe presented alongside Cole Burns, director of SCM career management for GSCI. Their session focused on recruiting, retaining, and understanding Generation Z (also known as Zoomers)—employees born between 1997–2012. It began with powerful data illustrating an approaching shift in the general workforce.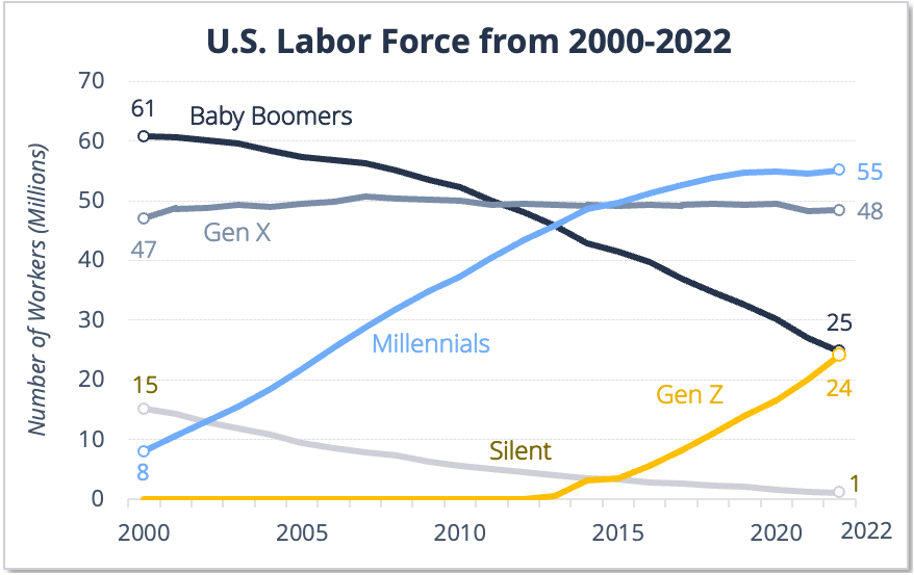 Source: Veris Insights analysis of monthly 2000-2022 Current Population Survey (from BLS). Gen Z includes those born in 1997 or after; Millennials between 1981 and 1996; Gen X between 1965 and 1980; Baby Boomers between 1946 and 1964; Silent Generation was born in or before 1945.
"Beyond compensation, Gen Z candidates look for employers that enhance their life in and outside of work," Keefe said. "Flexible work culture is important, but they also highly value the relationships they can build at work."
Major Events That Define Gen Z
9/11 Terror Attacks: They may not remember them, but they are still impactful.
Great Recession: They understand the value of money and its transience.
Global Climate Crisis: Motivating values-driven culture in the workplace.
COVID-19: They went to school behind a screen, missed major milestones, and are considered the loneliest generation. That's why co-workers are important.
Keefe noted that recruiters should understand Gen Z's value of work-life balance runs alongside a commitment to hard work and problem-solving. Burns added that they view competitive baseline salary more as table stakes than the true area for negotiation.
"We see with recent graduates who really just have an expectation that salary will be competitive," he said. "But it's not the end all, be all for them. Very few are going to see a $3,000 difference as the main reason to choose one job over another."
The typical starting salary for UT supply chain management graduates is about $60,000; it rises to $68,000 for honors students.
Based on research gathered nationally and from UT students, Keefe and Burns argue that employers must also understand
Zoomers take a value-centered approach to work.
Zoomers are online but reaching them requires intentionality.
Gen Z aims to renegotiate the work-life contract.
Gen Z values mental health resources.
Company culture is the key to keeping Gen Z.
Gen Z Takes a Values-Centered Approach to Work
A majority (60%) Gen Z report that working for a company that shares their values is "very important" or "essential," and that they look for signals of how companies demonstrate their values in the interview process. Burns and Keefe highlighted several, including:
DEI: The company values people and works intentionally to include all groups.
Ethical: Students push away from companies known for unethical practices.
Respect: They want to be treated as a member of the team, and as a peer when being recruited.
Transparency: Students want to know the good and bad of the job. They highly value honesty and communicating real expectations.
Zoomers Are Online But Reaching Them Requires Intentionality
Gen Z turns to LinkedIn and Glassdoor to learn about employers at nearly twice the rate of non-Gen Z candidates. Quick, interactive content captures their attention when engaging on social media. Posts about work-life balance, job openings, and company benefits gain the best traction with Zoomers on social media.
Burns cautioned that email blasts through Handshake or any other automated service wouldn't likely reach Gen Zers.
"When they see that outreach is automated, they will not read it," he said. "They have the same expectations of companies that you put on candidates. Spend time personalizing it just like you'd want to see in a cover letter."
Gen Zers Aim to Renegotiate the Work-Life Contract
Half of Gen Z rate flexible work hours, hybrid or remote work options, no expectations for working during non-work hours, and a competitive PTO policy as the most important signals of a company with strong work-life balance.
Keefe noted several Zoomers framed work-life balance as a matter of trust. They can take time off in the middle of the day to run errands, work out, or work from different locations and still get their work done.
Gen Z Values Mental Health Resources
Burnout is 7% higher among Gen Z than older generations, with half of survey respondents citing long work weeks. Providing mental health days and regular conversations with managers are the most high-return interventions for reducing burnout.
"Managers should make sure that they check in, not just about work, but how employees are doing and feeling," Keefe said. "They should ask how to rebalance or reprioritize the work."
Fostering a feeling of belonging and trust from managers is particularly important to marginalized groups. Employee inclusion groups can be powerful tools for helping women, Latinx, and Black workers.
"Anxiety and depression are common in this generation, and retention of people with mental health disorders goes up extremely high when you have resources made regularly available and make these resources known," Burns added.
Company Culture is Key to Keeping Gen Z
Gen Z can tell if a company's culture fits them well within six months of employment. They stay with employers who maintain work-life balance, pay well, and offer opportunities for growth. Three out of 10 Gen Z employees say that strong relationships with co-workers are a top reason they want to stay with their current employer.
Demonstrating work-life balance is pivotal. Not calling at 5 or 9 p.m. to ask them to do additional work or to work on the weekend.
Good relationships with managers also topped survey responses. Managers should be transparent and honest and communicate genuinely.
"Gen Zers want an environment where they feel like they can become friends with their coworkers and managers, not one where they totally disengage once work is over," Burns said. "But they also expect to be treated in a way that their time is being respected and valued as shown through pay and respect for time away from work."
Insights from SCM Undergrads at UTK
Burns then outlined several key insights on what attracts and repels students from companies recruiting them.
Green Flags:
Returning interns and young alums work there. They were recruited, did the job, and can speak specifically about it.
Demonstrating personal interest/casual interactions. Taking them out to dinner and discussing classes and other topics beyond supply chain management. Without this, the perception is that they are just a resume to employers.
Opportunities for growth. They're not looking to be promoted in six months, but don't leave them in the same position for two years. They want to be able to grow in the company and develop skills.
Demonstrating an understanding of personal needs. Understanding the basic needs associated with your location—particularly housing. Demonstrating work-life balance by not making job offers at the final moment. Demonstrate that you care about them as a person.
Company representatives conducting personal follow-ups. Do the same thing you'd expect a student to do.
Reputable organization with strong brand presence. They want to be able to hear about your sustainability projects and the positive ways you've impacted the community.
Red Flags:
Disorganized and unclear communications. Inconsistent follow-ups or follow-through.
Being ghosted. Even if the response is an automated email to turn them down, that is preferable to being labeled a company that ghosted a previous candidate. Know that every interaction will influence your future interactions.
"We're like family." This language usually indicates that you work longer hours, can never say no to projects, and have no boundaries between work and personal life.
Treating another student poorly. If a recruiter is rude to someone or treats a student poorly, they will get a bad reputation on campus. If you ball up a resume and throw it away at a recruiting fair, that will blow back.
Only having transactional conversations. They're looking for a relationship, and to know you want to learn about them as a person.
"In an Ideal World":
Recruiters communicate job information and location upfront.
Recruiters communicate quickly and clearly. They don't take weeks to respond to emails or months to respond to an application.
Supervisors have an open-door policy and offer opportunities for continuous feedback.
Managers recognize and reward good work with fair raises and promotions and keep compensation competitive.
Interviewers treat students like peers and not just potential employees.
New employees will be exposed to individuals from every level of the organization during the recruiting process. Directors and executives show they're invested in that process.
Q&A
During the Q&A portion of the session, all questions were directed toward the assembly of UT supply chain management students in the room.
If recruiters are out there meeting people, and we don't have an immediate opening, how do we communicate without seeming like we're being disingenuous or ghosting?
Students advised that they becompletely transparent, noting when a recruiter may reach out in the future. When you do reach out, reference the conversations you've had with the student. They also suggested making a genuine connection on LinkedIn and following up throughout the school year.
Where are you going to find the content you want to see from employers?
LinkedIn was the unanimous answer. Handshake is still considered a good resource, but the majority of students turn off notifications because they are automated. Students also talk a lot with each other, so word of mouth is important.
How important are networking events?
According to students, they carry 10 times the weight of anything on LinkedIn. Having consistent people on campus helps. But in-person events and roundtables are considered the best way to connect. Students also suggested sending an alum to a career fair.
Who should take the initiative for the follow-up: students or the company?
Students feel like the company should do the follow-up, though the responsibility lies with both. Students clarified that they don't expect a total reversal in which companies are entirely pursuing them. They expect to send out emails saying, "It was great talking to you," but if they do, they expect to hear back from companies.