Written by Katie Bahr
This is one of two posts based on sessions from the 2023 Spring Supply Chain Forum, which took place from April 25–27 in Knoxville, Tennessee. Read the first about recruiting, retaining, and understanding GenZ employees.
On the forum's final day, supply chain management department head John Bell spoke with University of Tennessee women's basketball head coach Kellie Harper about leadership principles that transcend professional disciplines.
In March, Harper, a three-time national champion as a Lady Vols player, completed her fourth season at the helm, leading the team to its second consecutive Sweet 16 appearance.
The conversation began with Harper describing what she believes is the foundation of any successful approach to leadership.
"Many times, we see people in leadership positions struggle because they just aren't good people," Harper said. "Have empathy. Genuinely love the people you work with. Usually, if you start there, you can learn and figure out everything else."
Bell agreed, noting that trust held together every team he had served on or led, whether as a business professor at UT or a lieutenant colonel with the United States Air Force. "If you lose that, what do you have? Nothing," he said.
To Harper, trust is even more critical for athletes who, like all current UT students and young professionals entering supply chain professions, are members of Generation Z, which questions the reasons behind decisions and keenly deciphers inauthenticity.
Bell asked Harper how she built the trust and motivation in her team, held it, and built performance in the Vols over a long season.
"Everyone has to have their 'why,'" Harper said.
"Our team has to have a common vision. They all have different backgrounds and different goals for their lives. But their end goals have to be the same. If the vision is clear and is repeated—if you constantly talk about how you're going to get there—that's how you get to your best."

Kellie Harper, Women's Basketball Coach
"Our schedule would have broken a lot of teams," she said. "But we talked about embracing adversity, and that made us better and stronger. We said we could still get to our goal and laid out all the things that needed to happen to achieve it."
How do you keep that vision when you have a notable injury on the team? "In supply chain management, we'd call that disruption," Bell said.
The most crucial aspect of any injury is a player's health, Harper noted. From there, it comes down to focusing on the vision. Recovering from any setback requires a balance of deep internal confidence that your team can overcome the issue and having regular, honest conversations about how to improve.
Bell next asked Harper about one of the areas where athletics and the current supply chain management field overlap: finding and recruiting talent.
"It's the lifeblood of what we do, and what you do, too. And it's very hard," Harper said. "Of course, we're evaluating players' skill sets on the court. But their intangibles are just as important. And while we're evaluating that, we need to understand what we already have on our team and where we need to grow, both in skills and intangibles. Maybe we have reserved people on our team and need some leaders."
Harper then noted that the previous season's team was very talented. Still, it took time together off the court, in book clubs and other get-to-know-you activities, before they could really come together successfully on it.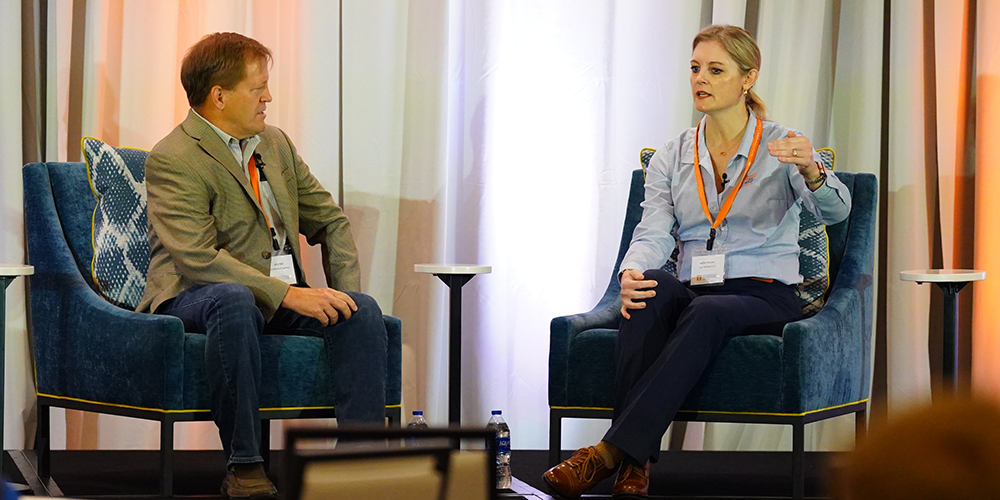 Bell asked Harper about stepping into a difficult position and changing the culture, as she did while head coach of Missouri State, which she took from an under-.500 record in her first season to two NCAA Tournament appearances, including a run to the Sweet 16 in her last season in 2019.
Harper quickly noted that it is all about culture and that the language of "rebuilding" does not foster a good one.
"We still have players that were on those previous teams, and I think the word 'rebuilding' is a slap in the face for them," she said." It's not a great motivation if you tell them they are failing, and you're going to rebuild them. There are so many reasons things just don't go well, so I'm not using that vocabulary to describe the person before me, either. You have to go in and talk about the culture you want to build and build it. You never check that box and move on. If you aren't nurturing that culture every day, you're losing."
Harper advised young professionals entering into leadership roles to focus on treating people well and making the best decisions they can every day. When they make mistakes, they should learn from them. And they should never stop learning and growing.
The coach credit the people she manages with the success people attribute to the program.
"To quote Pat Summit, 'You win in life through people,'" Harper said. "If you don't have the right people, you are not going to win. I am not a micro-manager; I try to be organized with a good structure and accountability. But I've got good people in place. They're able to do their job, and I don't want to get in the way."
Audience Questions
How do Harper and her team recruit Gen Z? How do they relate to them in the new, ever-changing environment engendered by player transfers?
"I transitioned a few years ago from saying 'Recruiting is not like it used to be' to embracing who these young people are. You have to understand that the world that they grew up in is so different from ours and understand that it is hard to be a young person."
She recommended the book "What Made Maddy Run," by Kate Fagan as a terrifying, insightful look into understanding Gen Z and the mental health struggles many from that generation experience.
How has the transfer portal affected your ability to build a cohesive team?
"We can complain about it and talk about loyalty, or we can embrace the new normal. It has changed the dynamics of teams. You have to communicate very directly about expectations. Enabling our current players with good culture is important, but so is supporting someone coming in with great integrity to work towards our common goal."