"To say the camp was a success is an understatement," said Thomas Deakins, director of the Global Supply Chain Institute about the inaugural Supply Chain Management (SCM) Summer Camp, which ran from July 9–14 at the University of Tennessee, Knoxville.
Over six days, more than a dozen high school juniors and seniors from Tennessee and other states learned about leadership, how to prepare for college, and the benefits of majoring in supply chain management. Ryder Professor Yemisi Bolumole, a leading woman in supply chain management, welcomed the campers to campus. Throughout the week, they heard from professors Sara Hsu about procurement, Justin Kistler about manufacturing, and Alex Scott about transportation and logistics. The closing keynote speaker was Jayson Sherrill, portfolio operations director for Ryder's automotive, aerospace, and industrial business.
Beyond sessions with faculty, students also toured a Clayton Homes manufacturing facility in Rutledge, Tennessee, as well as a PepsiCo distribution center and Axle Logistics headquarters in Knoxville.
The SCM Summer Camp was made possible due to the generous support of Supply Chain Forum partners Ryder, Caterpillar, and Tractor Supply Company.
Besides sponsoring the camp, all three companies were involved in sessions during the week.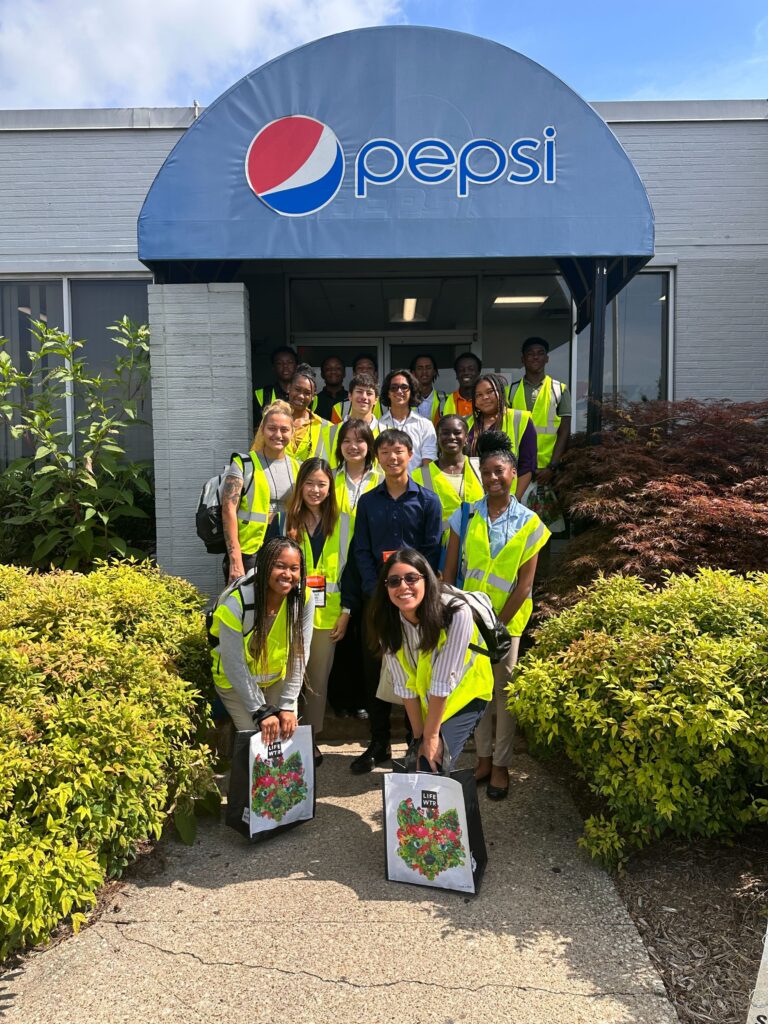 Ryder hosted a case study in which students formed four teams representing Vols Scout Corporate to develop the best supply chain process for Thin Mint cookies for the Great Smoky Mountain Scout Troops.
Caterpillar VP of Procurement Wendi Gentry-Stuenkel introduced students to the concept of supply chain management and met with high schoolers and Haslam students, who served as peer counselors during the camp.
Tractor Supply's LaRayco Mayberry, operations manager, and William Burnette, transportation analyst, collaborated with Scott on a presentation about distribution.
The camp was organized with the Haslam College of Business's Office of Community and Diversity Relations.
Student Takeaways
Nearly all of the students who participated in the camp named the site visits among their favorite experiences. They also enjoyed team bonding sessions led by Haslam and SCM career staff and interactive sessions on distribution, negotiation, and manufacturing.
Here are some of the students in their own words, starting with Mali Tumusiime, a sophomore supply chain management major who served as a peer counselor.
"I wanted to share my college experience with others," Tumusiime said. "As a senior in high school, I did a program similar to this one, and it really helped me gain a better understanding of what college is really about. I wanted to help other students experience that."
"My favorite parts of the summer camp were the team-building activities and the site visits. I really love the fact that Cole [Burns] and Tyler [Orr] let us job shadow during the Axle Logistics site visit. I learned a lot about how supply chain managers and third-party logistics companies work in real life. Although I was a counselor, I feel like I learned a lot at this summer camp."
Michael Ku from Massachusetts:
"The experiences I had meeting new people and exploring different companies is one that I'll never forget. I learned that there's a story behind everything and everyone, even the Starbucks coffee that starts with a single bean in South America. Even we students all have a unique background that got us to where we are today."
"I've come to understand that there are also roadblocks for every company and everyone. But, like great supply chain managers, there is always a solution to be found. Although it may be slow and hard, there is a solution. I understand this principle now and will use it in the future. The easy route may not always be there, but there is always another way to deliver your product, and the product, in this case, is you."
Marion Brewer III from Tennessee:
"First and foremost, the program taught me how significant stepping outside your comfort zone is when it comes to meeting different people. I learned how much better the world would be if we focused on what we had in common rather than our differences and used them to connect with one another."
"Another important takeaway I learned from this wonderful program was responsibility and accountability. This camp really challenged you while also providing us insight into the college lifestyle. Whether it's getting to places on time, wearing the right clothes, or even engaging in lectures and activities. Everything is on you. In the beginning, our mentors said that 'you get out what you put in.' I realize now that they were not only talking about this week but about life."
"The program showed me that we have the ability to control our mindset and actions. Essentially, the purpose of this program was to teach students not only supply chain management skills but also how we must take accountability for every experience we go through. I'm so thankful for the opportunity."
Reagan Dale from Mississippi:
"The camp taught me how to work through challenges I'll face when I'm in the workforce. I learned the importance of building a relationship with the people I'm around because I'll never know what kind of impact they can have on my life or that I can have on theirs. I was able to see the kind of future I want for myself and the impact I want to leave on the world.
"My biggest takeaway was learning about all the opportunities and jobs that are right in front of me. I also really enjoyed getting to know my peers. I've made bonds here that I hope will last a lifetime."
---
Planning is underway for the 2024 SCM Summer Camp. Dates and registration information will be made available in January 2024. If your company is interested in partnering with our team or sponsoring students, email gsci@utk.edu.
Relive the camp on Instagram.