Written by Alan Amling and Tom Goldsby
This post is the first in a three-part blog series about research conducted into last-mile and reverse logistics by GSCI Fellow Alan Amling and co-faculty director Tom Goldsby. Download the white paper.
As the global COVID-19 pandemic fades along with the e-commerce boom it created, we shouldn't fool ourselves into thinking things will return to how they were. The changes in e-commerce and the logistics networks that enable it are in the early innings of a game that will span decades.
To better understand the context behind the unprecedented changes in e-commerce last-mile logistics, we must revisit the wisdom of Sir Isaac Newton.
His third law states that every action has an equal and opposite reaction. The initial action—the global pandemic—paralyzed the economy; the subsequent reactions started a chain of events that rocked global supply chains. Stores and restaurants shut down, and corporate spending ground to a halt. Orders were canceled, factories shuddered, and planes, trains, and trucks were taken out of service.
Consumer demand increased exponentially. Buoyed by increased disposable income, consumers bypassed closed stores and restaurants to purchase durable goods online. The global supply chain had to reverse course while dealing with factory and port shutdowns. As a result, critical links in the global supply chain snapped, and the repair process is ongoing.
Retailers Rose to the Challenge
Retailers faced a reckoning that would change a decades-old power structure in the supply chain. Store closures forced retailers to expand their online business rapidly. Once they did, they were hit with capacity restrictions and increased pricing from their small parcel carriers.
Their reaction was to innovate.
Last Mile Logistics Won't Be The Same
Amid turmoil, delivery times logically suffer. But delivery times improved dramatically after a brief period of delays in mid-2020.
For much of the early 2000s, 2–5-day delivery was the gold standard. As ship-from-store and local fulfillment took hold, same-day and next-day delivery became more common. The ability to fulfill an order from a store 30 miles from a consumer versus a regional distribution center 300 miles away was a game-changer. With the bar for delivery times raised, customer expectations will not reverse. As IBM Senior VP Bridget van Kralingen noted, "The last best experience that anyone has anywhere becomes the minimum expectation for the experience they want everywhere."
Succinctly, today's consumer has become diabolical. They expect immense product variety at competitive prices, quick and free shipping, complete visibility of orders from placement to delivery, and no-questions-asked, hassle-free returns. Despite the challenges of meeting these expectations—profitably or not—direct-to-consumer (D2C) vendors are tripping over themselves trying.
Today, store closures are rare, but retailers continue to double down on logistics, extending control over customer experience to the doorstep. Amazon, Target, and Sam's Club announced significant investments in the first quarter of 2023 to speed up and improve last-mile deliveries. American Eagle, Walmart, and The Gap have taken their new expertise in logistics and turned it into third-party offerings. Alpha-retailer Amazon already delivers more parcels than FedEx. Is UPS next?
The disruption is on.
Local Pick-Up with Local Delivery Changes the Game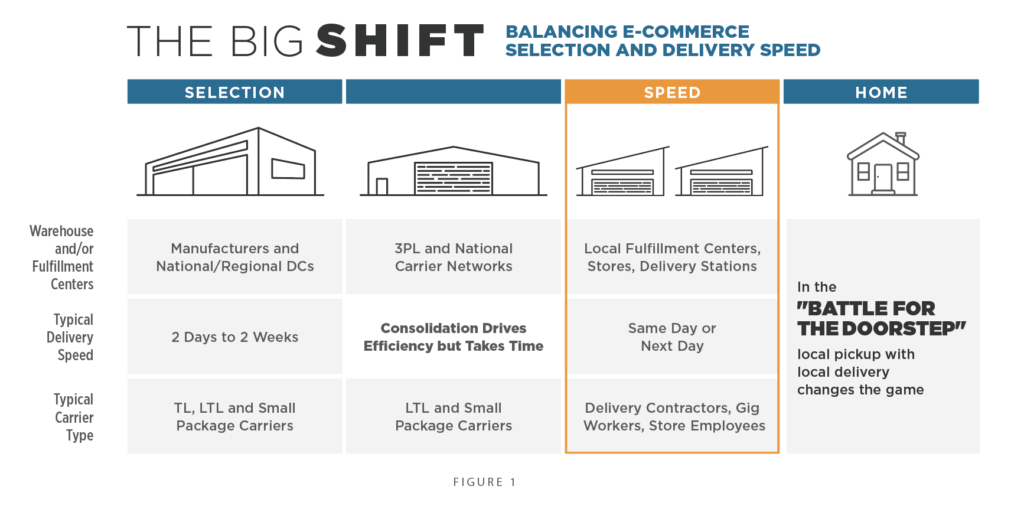 Caption: The Big Shift occurring in e-commerce delivery.
Manufacturers and national and regional distribution centers (DCs) hold a broad product selection and buffer supply and demand gaps. These facilities are typically 100,000- to 1-million square feet or more in size, located in rural and low-cost locations, and rely on third-party truckload (TL), less-than-truckload (LTL), and small-package carriers with regional or national networks.
While better processes and technology applications have improved time and cost performance, these facilities have relied on the same basic setup for decades. A Go Vols sweatshirt shipped to Knoxville from a national DC in Los Angeles must travel through a maze of vehicles, facilities, and conveyor belts to get to your front door by gameday. Consolidating packages going to the same area as they flow through the supply chain is a critical efficiency lever. But it takes time.
The Big Shift has been driven by fulfillment closer to the customer, whether from stores or an increasing number of urban and suburban fulfillment centers. If that Go Vols sweatshirt began its journey from one of the five Target or eight Walmart Supercenter locations in the Knoxville area, the consumer would likely have it on their doorstep in one day or less.
This change represents an evolution of e-commerce logistics, not a wholesale change. Just like the invention of the microwave did not displace the stove, local fulfillment will not eliminate the need for regional fulfillment. The key is knowing under which conditions each should be used. To help D2C vendors understand the emerging logistics landscape, companies in the University of Tennessee, Knoxville's Advanced Supply Chain Collaborative, directed research in this area during the height of the pandemic. The next two blog posts in this series will introduce these emerging and established fulfillment and delivery models and explore the next shift in e-commerce logistics.